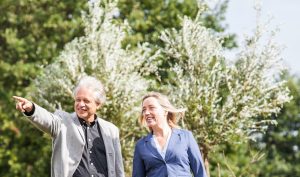 Bij het leiden en presenteren van themabijeenkomsten kunnen Marjan Tulp en Jorg Tönjes een rol spelen. Hun ervaring als sprekers op het podium, in het theater, bij trainingen en lessen en in de muziek komt daarbij van pas. Hun kennis van communicatie, journalistiek, landbouw, gezondheid, dieren en voeding geeft de dag inhoudelijk meerwaarde.
Bij de keuze voor een presentator of een duo presentatie draagt inhoudelijke kennis bij aan het niveau van de themadag. Goede interactie met de deelnemers van een bijeenkomst verlevendigt de beleving. Dan is het de moeite waard om erbij te zijn. Een kwinkslag, een kritische vraag, een rake samenvatting…
Marjan en Jorg pakken individueel of samen de klus op om een mooie dag te organiseren. Geïnteresseerden kunnen daarover bellen. Net als bij onze teksten en andere producties geldt: alles is in overleg op maat te maken.